Brakes are critical for your vehicle's performance and your safety. So it's important to know how they work, and when they need maintenance. Solution Tires Inc. will help make sure your brakes function properly at all times.
Solution Tires Inc can offer repairs very quickly because we are experts in brake services. We have five repair bays, with lifts, and three brake lathes which allow us to complete repairs efficiently; shortening the time it takes you to get your vehicle back!
Our ASE Certified technicians are trained to service today's complex brake systems. We'll inspect your vehicle's brake system to make sure it's working right, diagnose any problem and offer suggestions and an estimate for repair.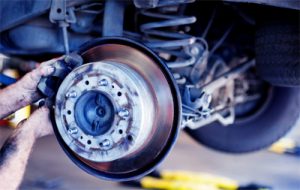 Brake Services in Parkland
Our services are guaranteed to eliminate brake squeak. We can perform routine maintenance as suggested by your vehicle's manufacturer. This usually means a brake system flush, removing the air and moisture from brake lines and replacing brake fluid. We provide full repair service for all your braking needs:
Brake pad replacement
Rotor service
Brake cylinders replacement
Anti-Lock Brake System service
If you notice any warning signs, sounds or sensations in the brake system Contact Us immediately. Ignoring brake system problems usually makes things worse in the long run. It's always better to be safe than sorry.
Solution Tire »